Why glasses chains are more fashionable than you think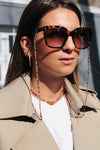 If you're not a fan of glasses chains yet, you're missing out on a stylish accessory that's making a big comeback in the fashion world. From simple and minimalist chains to bold and chunky styles, glasses chains are the perfect way to add a touch of personality to your look.
First of all, let's talk about the versatility of glasses chains. Whether you're dressing up for a formal occasion or just hanging out with friends on a casual day, a glasses chain can add a touch of style to any outfit. And with so many different types to choose from, you're sure to find a glasses chain that perfectly fits your own sense of fashion. Frame Chain Glasses Chains really outshine their competitors because you can always clip the ends together and wear your glasses chain as a necklace, or statement piece.
More than just looks
So, one of the things we love about glasses chains is that they're incredibly practical. How many times have you left an expensive pair of glasses somewhere or, if you're unlucky enough, have accidentally sat on or dropped them? Just to end up with another pair of lost or broken glasses? It happens all too often.
That's why, by simply attaching a frame chain, you'll never have to worry about losing your glasses again. No more searching through your car, or desk, or even hanging them precariously off your shirt – your glasses will always be within reach.
Fun times too
But let's not forget that glasses chains are also incredibly fun to wear. They add a touch of playfulness to your look and are sure to bring a smile to your face (and those around you). Whether you prefer a simple, minimalist chain or one with bold links in a variety of materials, a glasses chain is a great way to express your individuality and add a splash of colour to your look.
The next generation is donning this iconic accessory. Check out this article, "The eyewear chain is now a coveted accessory for young fashion fans', in The Star,  don't just take our word for how fashionable glasses chains are. 
So, don't get left behind, glasses chains are more trendy than you think. They're versatile, practical, and chic. So why not add the glasses chain to your accessory collection? Head over to Frame Chain UK for all you need to know about glasses chains, including where to buy, how to order them and what the latest trends are for men and women. Frame Chain glasses chains are the perfect gift for anyone of any age. It's all about style with ease. Whether loud or quiet, there's something for everyone to love.